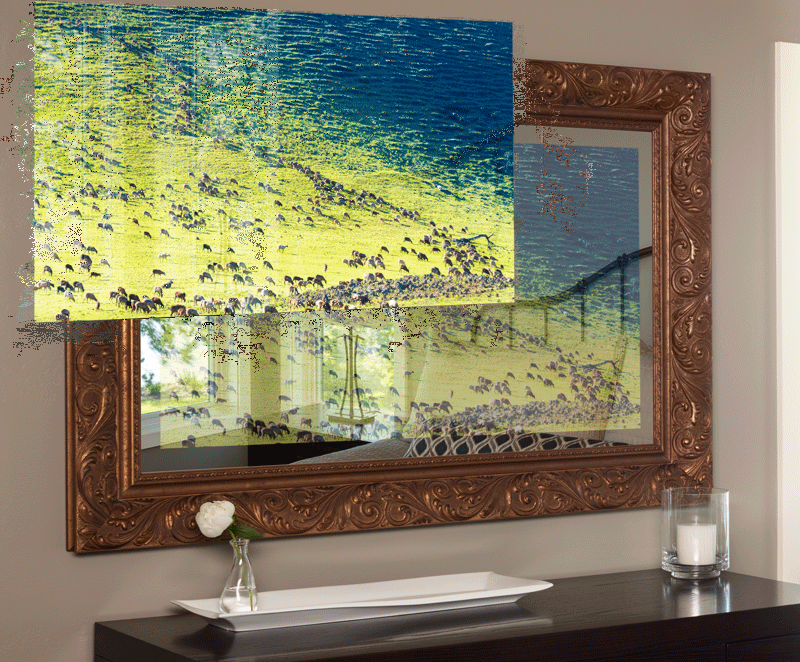 TV's that don't compromise your design
Seura, a phenomenal company based in Green Bay, Wisconsin provides some of the most attractive and functional "mirrors" you will ever gaze upon. Seura, has been creating TV's that disappear into your living space effortlessly and elegantly, and bathroom vanity mirrors with state-of-the-art LED illumination and the option of a hidden TV, smart screen or nothing. Seura has several standard-sized and configured options for both vanity mirrors and for the "centerpiece" of your formal living space. There are a wide variety of sizes and frames to choose from. There is more to doing this right than pasting a TV behind glass, Seura has developed mirrors that render the TV completely invisible when off, yet exceptionally vivid when on. An accomplishment unmatched by any competitor.
Seura mirror TV's and Vanity mirrors are customizable in standard sizes; you pick from the frame options, dimmable LED designs and TV size. Or you can fully customize the mirror to your specific requirements.
Performance is an important consideration as well. Building a mirror TV is not as simple as slapping a conventional TV behind a mirror with the backing cut out, even though that's how some do it. That doesn't achieve true invisibility, nor does it insure peak video performance. Seura TV's are designed to deliver a crisp bright Ultra High Definition image when you watch, and disappear completely when you aren't.
The invisible TV coupled with dimmable LED lighting can enhance the design of any style bath or dressing room. We've also put them in personal gyms with great results. In your primary living space, a beautiful framed mirror that becomes a TV on demand is a great way to maintain the design aesthetic without giving up a TV. The soon-to-be released Smart Mirror will appeal to everyone that wishes to start their day fully informed.
Click here for more information on Lighted Mirrors.
Click here for more information on Vanity TV Mirrors
Click here for more information on TV Mirrors.
Click here for more information on the Smart Mirror.