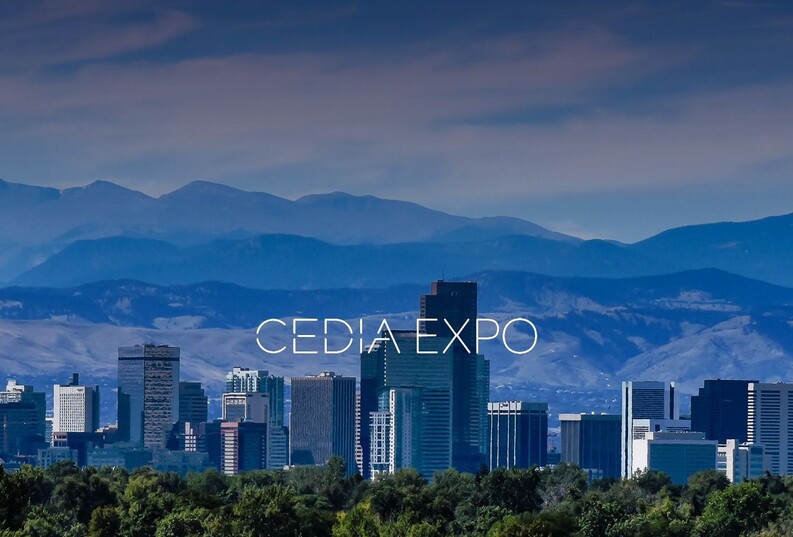 The CEDIA 2023 Expo, the preeminent show for residential custom installations and one of the most anticipated events in the home technology industry, has come and gone, leaving attendees and exhibitors buzzing with excitement. Our team had the privilege of attending – Here is an inside look at our experiences, and a few of the remarkable innovations we encountered!
CEDIA (Custom Electronic Design & Installation Association) is an annual event that brings together the brightest minds and latest innovations in the home technology industry. This year's Expo, held in Denver, certainly did not disappoint.
The heart of the CEDIA Expo is the exhibition floor, which highlights the latest and greatest in-home technology. For System Integrators, this was an opportunity to explore the most innovative products that we can offer to our clients.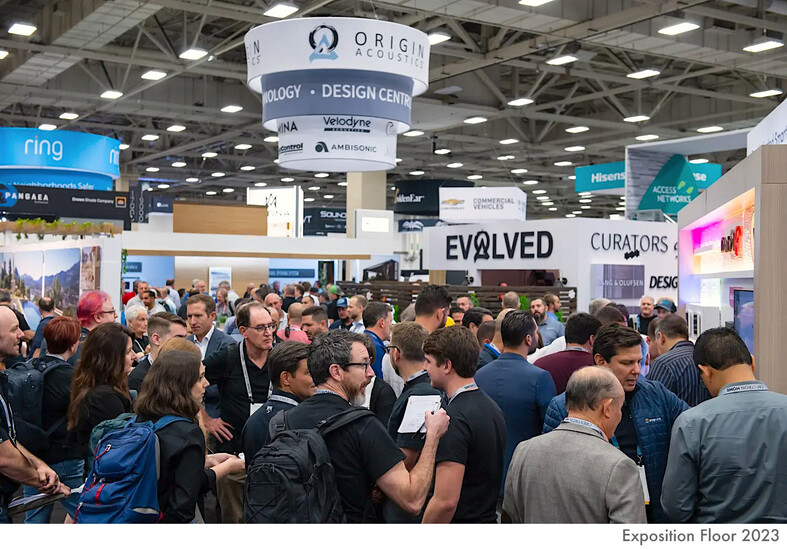 Amidst the wealth of remarkable trends and products we explored, a select few truly captured our attention:
LG really stepped up their game this year, with exceptional quality OLED TVs - the picture is out of this world. The pixels of LG's award-winning OLED TVs emit their own light, resulting in perfect blacks, a palette of over a billion vibrant colors, and infinite contrast, delivering an entirely elevated home entertainment experience. Matt Graver, SI's project manager, liked the TV so much that he went home directly after the conference and purchased one for his home!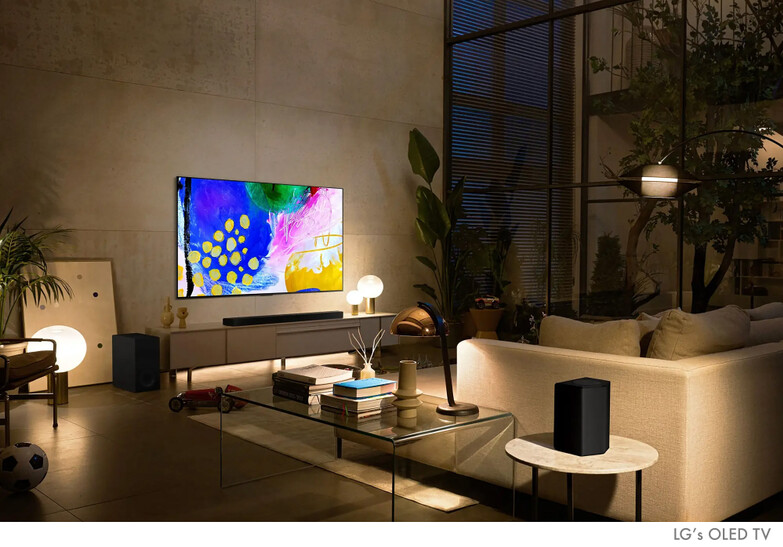 At this year's Expo, Sonance marked its 40th anniversary with the debut of the Visual Experience Series, reaffirming its prominent position in the industry. This new line of architectural speakers comprises 21 in-ceiling and in-wall models, poised to succeed the VP & QX lines. The Visual Experience Series introduces numerous enhancements, encompassing improvements in functionality, design, dispersion, cover patterns, and installation procedures.
The James Loudspeaker product line by Sonance introduced the Wedge speaker, an on-wall unit designed for customized fitting to harmonize with a client's existing architectural elements. Furthermore, their on-wall series has been expanded to incorporate the OW64Q-M Loudspeaker.
Nicholas Thibeault was impressed with developments in Wattbox's power management systems. "System Integrators has been using Wattbox for battery backups for a while, but we're going to begin specifying their products for client power management as well." said Nick. "The advancements included an outstanding client-facing app with excellent power usage visibility and the ability to manage and reboot systems, both from the client app and our own service department."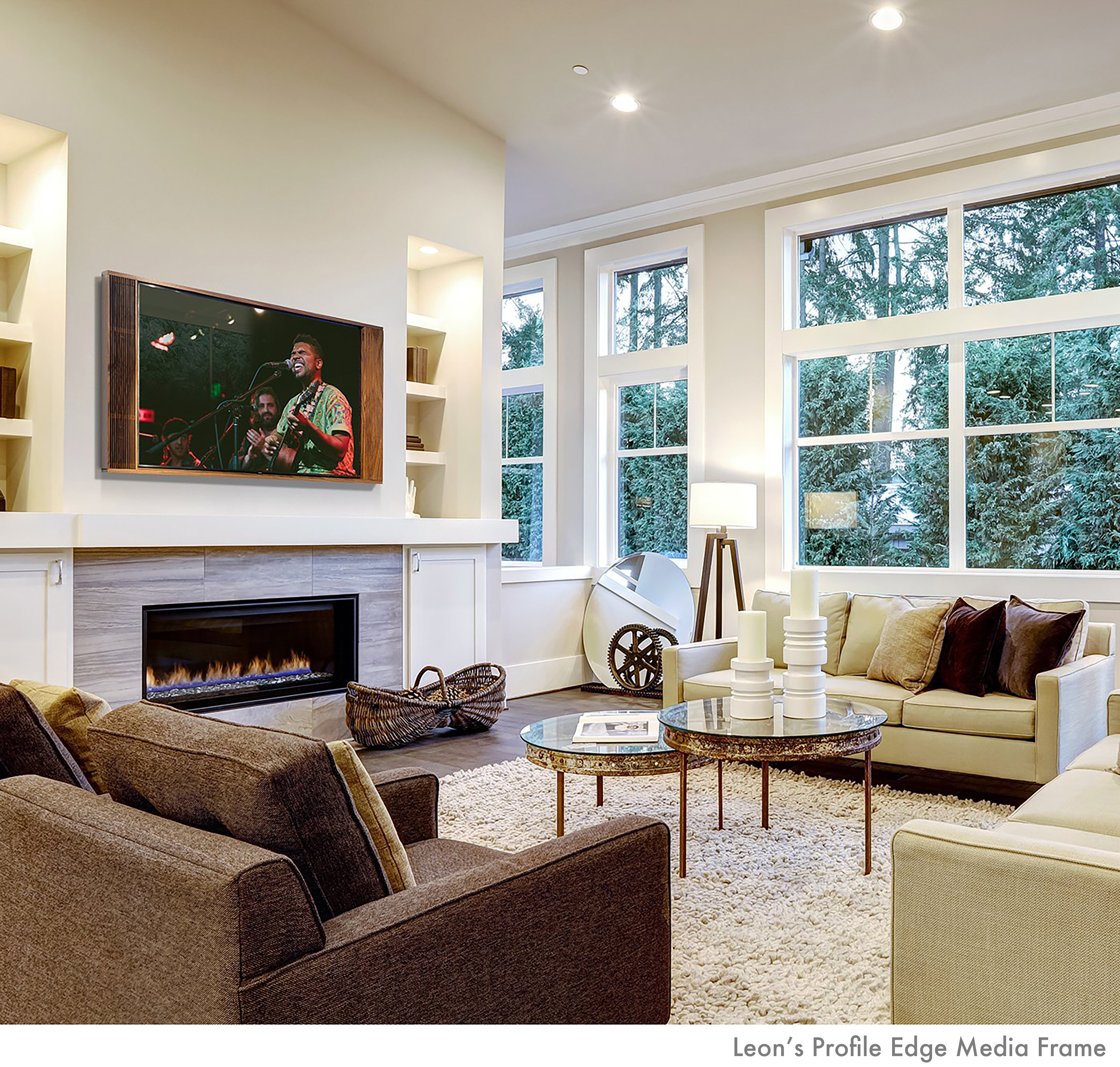 Another of our favorite new releases is Leon's new spin on their Edge Media Frame. Rather than housing the speakers below the TV, they can be side mounted, with beautiful custom wood slotted speaker grilles. This innovative system not only conceals unsightly wiring and mounting hardware but also offers tailored dimensions and finish choices to harmonize with any design aesthetic, making it the ideal enhancement for your home entertainment system.
Lutron, a pioneer in lighting solutions, has introduced the RadioRA3 Whole Lighting Control System in conjunction with their innovative Lumaris tape light. Lumaris is a versatile LED lighting product designed for a variety of applications. It is often used for accent lighting, cove lighting, under cabinet lighting, or any situation where a discreet and flexible linear lighting solution is required. The key features of Lumaris tape light typically include energy efficiency, color temperature options, and dimming capabilities. It is a popular choice for both residential and commercial lighting projects.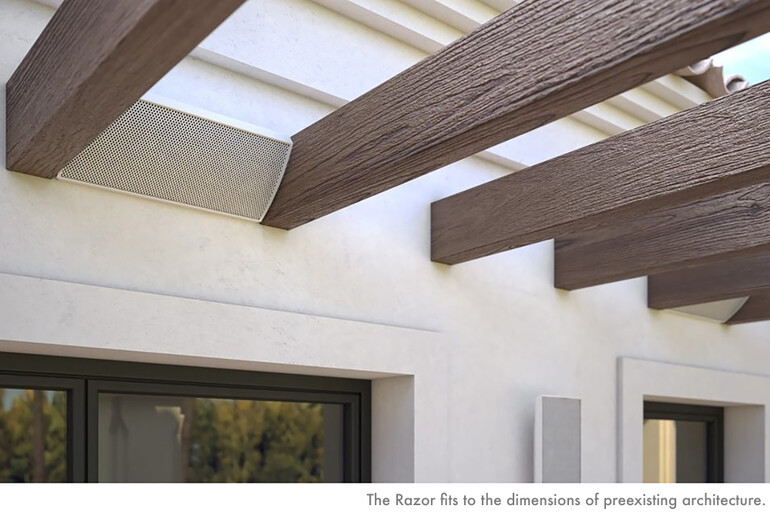 Coastal Source revealed several new and innovative products being added to their lineup. Among them, the Ketra-ready Modulus Bullet Outdoor Light Fixture stands out as a beacon of innovation in the realm of landscape illumination, blending sharp aesthetics with innovative Ketra technology. This line voltage fixture promises to elevate outdoor spaces with dynamic, customizable lighting. On the audio front, Coastal Source unveils the Razor Line of On-wall Speakers, an impressive lineup comprising eight distinct models in three assorted sizes. The Coastal Source Razor Speaker is the first line of outdoor wall and hardscape speakers built with true HiFi performance in mind. Offering unparalleled outdoor audio quality, the speakers are a testament to innovation and versatility, allowing for multiple mounting options on walls, ceilings, corners, or soffits. The Razor is slated for release in 2024, promising to transform the way we experience outdoor entertainment and aesthetics.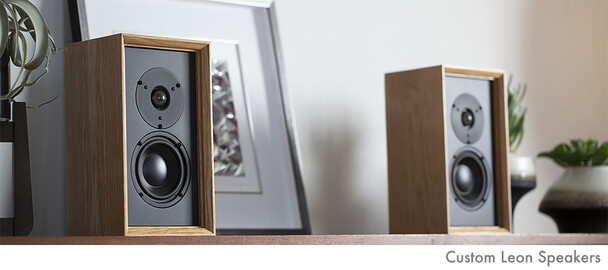 One more product that captivated our attention was Leon's custom speakers. These bespoke speakers seamlessly fuse sound with style, effortlessly adapting to any environment. They not only harmonize with each other but also offer complete customization options, including custom paint colors, finishes, grilles, and even dimensions, ensuring a perfect match for any style. Leon's innovative approach to technology shines through its ability to craft customizable speakers and concealment solutions that elevate both sound quality and aesthetics in any setting.

Aside from the trending products and showroom exhibitions, one of the most valuable aspects of the CEDIA Expo was the opportunity to network with industry peers and potential partners. System Integrators seized this opportunity to connect with other like-minded professionals, discussing potential collaborations and sharing insights into the evolving industry.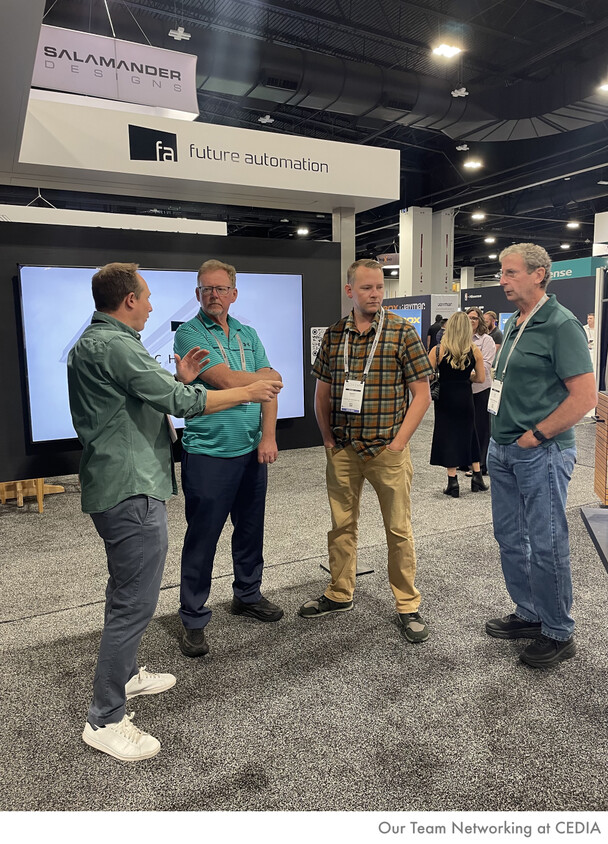 Our team's experience was significantly enhanced by the timely addition of Ed McNeil to our company. Ed's expertise encompasses different brands than those we typically work with, and his connections proved invaluable at the Expo. Consequently, we invested considerable time engaging with his preferred components, exchanging insights on our favorites, and collectively determining the optimal direction for our company and the benefit of our clients.
Speaking on his time at CEDIA, Ed stated, "I was able to show the team many of the products I have used over the years and vice versa. It was also nice to see and talk to many old friends in the industry. It was a fantastic bonding experience with my new team! I am very excited about all the new lighting that I am going to be involved with implementing."
SI's president, Rick Scott, had this to say about this year's Expo, "Some years, CEDIA unveils products that are great advancements, while other times it is incremental improvements. 2023 was weighted towards incremental advancements-- with one notable exception: LED Lighting. We have always focused on high reliability, superior performance, and exceptional support from our vendors."
As far as what clients can expect from System Integrators after their return from Colorado, Rick continued, "Incremental advancements indicate that the industry is maturing, as is the level of reliability, performance, and support. Lighting has become an important part of our work; We've done lighting control for over 20 years, and in the last few years, the technology associated with lighting fixtures has advanced to a point at which our level of expertise adds value to lighting specification and design. The manufacturers we have chosen to represent deliver on the values and attributes we consider important. Lutron, USAI, DMF, Proluxe and more were all present at CEDIA, with new offerings we are excited to present to our clients."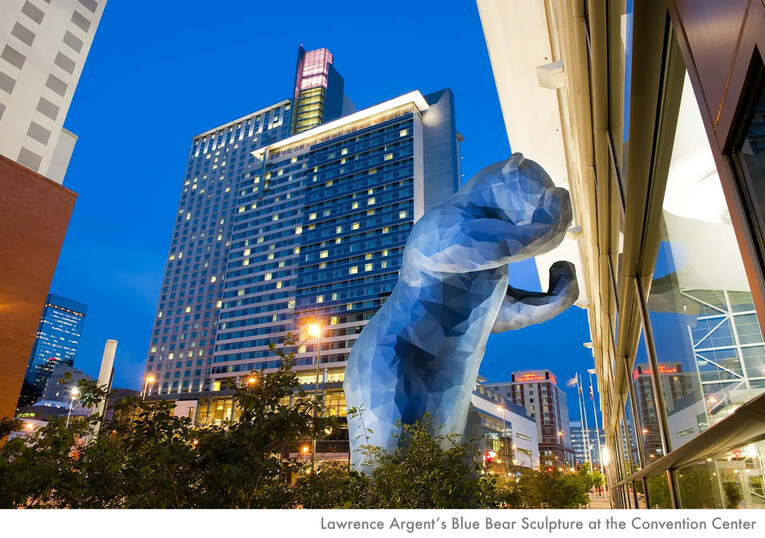 As we reflect on the experiences at CEDIA 2023, it has been made even more apparent that the future of home technology is both promising and transformative. The industry is moving beyond simply connecting devices; it is about creating intelligent, intuitive, and secure living spaces.
System Integrators continually looks for opportunities to better deliver technological advancements to our clients. Our team returns from CEDIA 2023 with a renewed sense of purpose and a commitment to pushing the boundaries of what is possible in the world of smart homes. Our experience at the event has not only enriched our knowledge but also inspired us to continue delivering the best in high-end home technology to our clients. The future is here, and System Integrators is at the forefront of shaping it.