Embrace the Splendor of Your Outdoor Spaces with SI's Design Team
Our outdoor spaces have evolved into extensions of our homes, complete with kitchen equipment, dining areas, cozy lounging spaces, and even outdoor theaters. As our clients and their families spend more time in carefully crafted exterior spaces, we've taken great pride in helping them make the most of them – especially after the sun goes down. This week, I had a conversation about outdoor lighting with our own Rick Scott, Nick Thibeault, and Ed McNeil. Their valuable insights have been compiled in this article. Read on to discover how elevated aesthetics, increased safety, enhanced home value, and the joy of outdoor living all come together with the power of an outdoor lighting ambiance-- expertly designed by our team.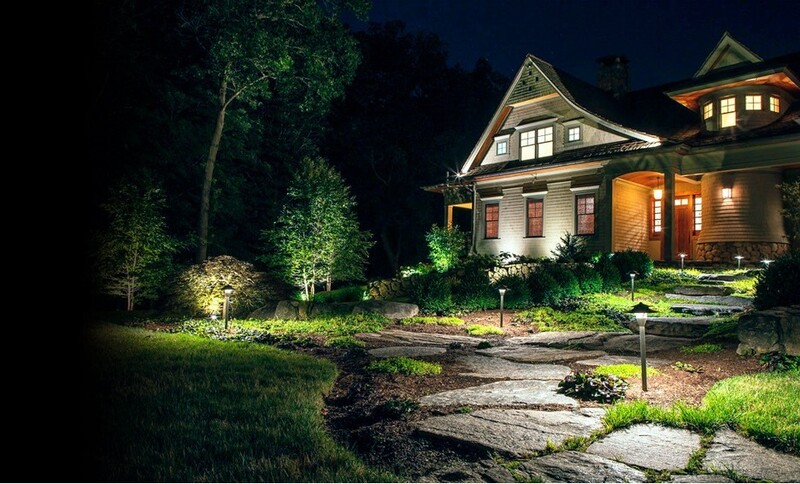 Grand Aesthetic
Outdoor lighting has remarkable impact on the natural beauty and atmosphere of your home. It accentuates charming features in the architecture and landscape, guides you along pathways, and generates a captivating ambiance. When considering the artful illumination of your outside space, take a moment to appreciate all the elements that deserve attention. Is there a magnificent tree in your backyard? Illuminate it with a spotlight. Do your patio's architectural details deserve recognition? Highlight them with outdoor accent lights. Have you poured your heart into a beautiful garden? Lead the way with path lights!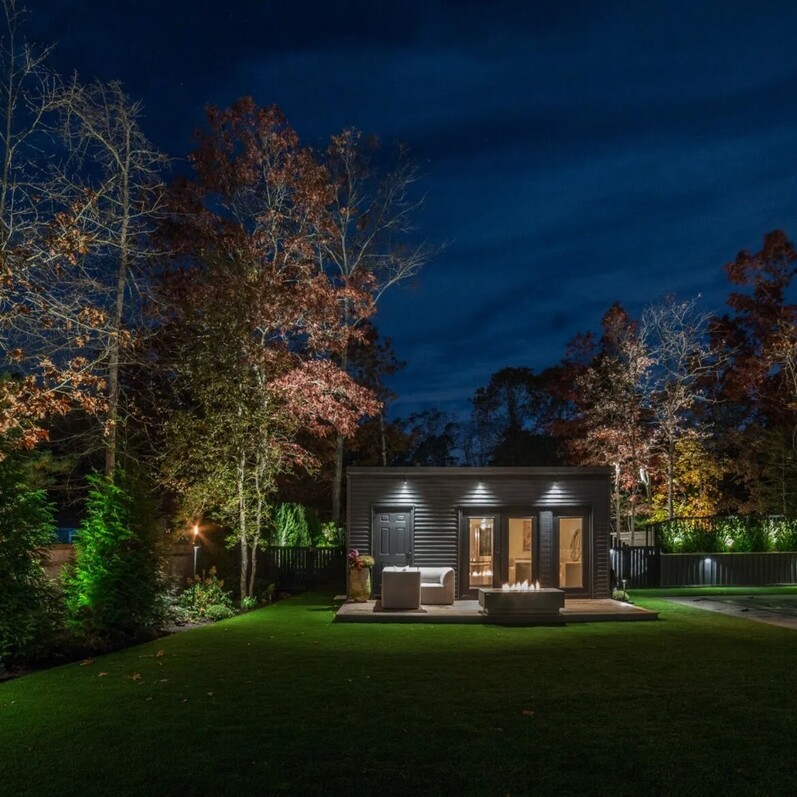 Nick shared that, "Well-designed exterior lighting should make you love the space more at night than during the day, a notion that feels counter-intuitive to most of us. In addition to being visually stunning, a well-designed exterior feels organically welcoming, comfortable, and safe."
Safety and Security
Safety is paramount, both when you're at home and when you're away. In the evenings, as you enjoy outdoor gatherings, well-lit pathways become essential. When you're not home, outdoor lighting plays a crucial role in safeguarding your property, "and," says Nick, "[outdoor lighting] is exponentially more effective when linked to your home's security system, and intentionally programmed with a lighting control system."

The right outdoor lighting ensures that you and your guests can truly relax and socialize safely in the dark. Outdoor post-mounted lamps are ideal for lighting driveways and stairways. Wall lights serve the dual purpose of identifying doorways and exits while brightening entrances. Step lights and path lights provide illumination for stairs and walkways, and address lights simplify the process of locating your home for guests and emergency vehicles.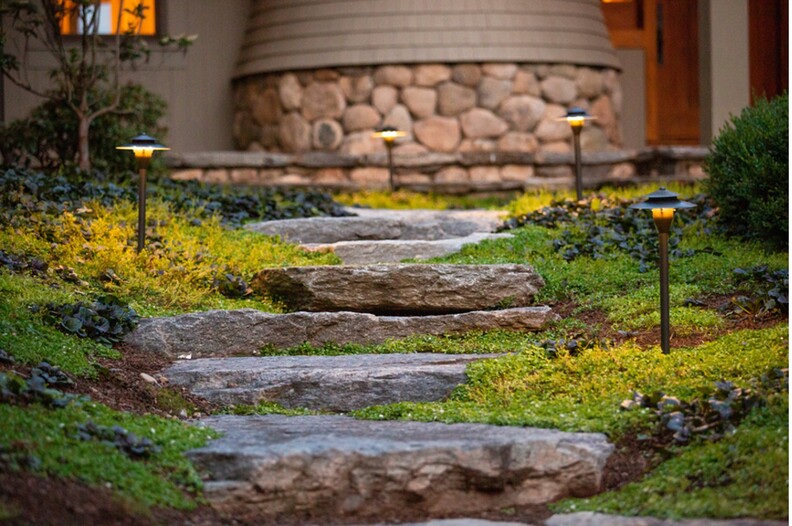 Property Value

Beyond utilitarian purposes, professional outdoor lighting draws attention to a home's key design elements, creates the illusion of larger spaces, and enhances the beauty and usability of outdoor living areas at night. "For homeowners with well-landscaped exteriors, it's one of the easiest ways to increase curb appeal and property value," shared Ed. One of the simplest and most cost-effective ways to boost your property's curb appeal is to embark on an entryway upgrade. A quick refresh with a coat of paint, updated lights, and a couple of tasteful accent pieces can work wonders. With our guidance, you can complete this project with minimal time and effort, reaping the rewards in increased property value.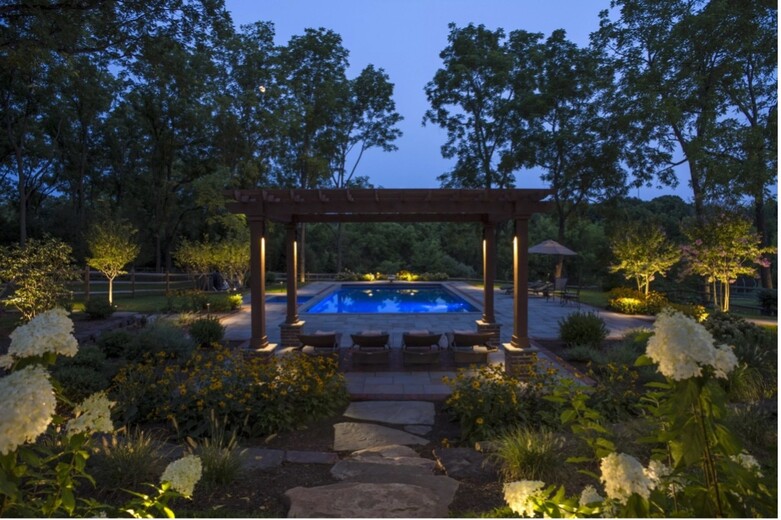 Quality of Life

Nick shared, "Imagine doing what you love outdoors – whether it's watching a movie, socializing with friends, listening to music, or playing board games with family. All these activities become more enjoyable and memorable in an outdoor setting."

Outdoor lighting contributes to this joy, extending outdoor usability into the evening, highlighting natural and architectural beauty, promoting safety, and deepening our connection with nature. Homeowners have wholeheartedly embraced outdoor spaces, turning them into serene retreats with features like pools, patios, lush greenery, and inviting fire elements. These additions create a strong sense of well-being, making your front or backyard the perfect place for relaxation, entertainment, and exploration, where well-lit exteriors set the stage for extraordinary experiences just outside your front door.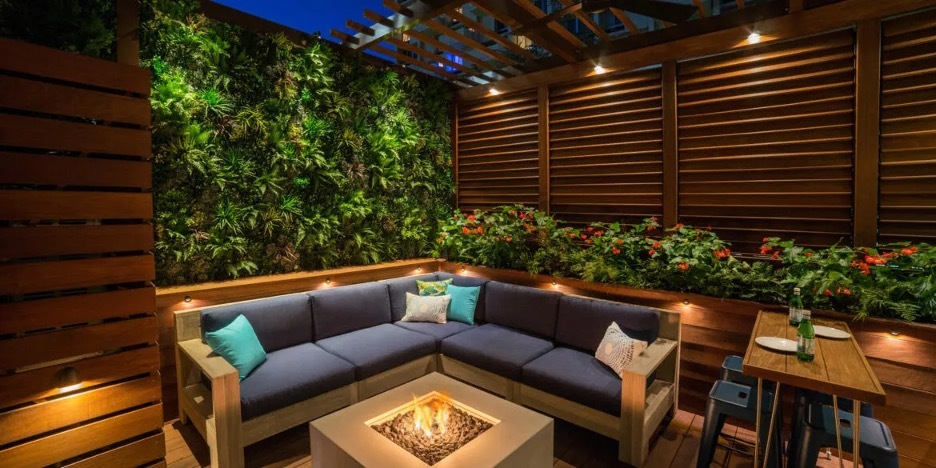 Quality of Light
As with all of our systems, the design team applies industry experience and extensive research towards selecting the best solutions for our client's projects. Some of our current favorites are from Coastal Source, who continues to create exceptionally designed pieces that withstand even the worst of Vermont's winter weather. Coastal Source has consistently proven to be a shining example of quality and innovation in the outdoor lighting industry. Their commitment to quality craftsmanship, durability, and design impeccably aligns with our company values and vision.
"Coastal Source has also been a great partner in helping us to develop our team's expertise," said Nick. Ed and Nick recently traveled to Connecticut to work with Coastal Source's lighting designers to create a variety of beautifully lit scenes on a historic New England farmstead. "Outdoor lighting training makes for a pretty late night" laughed Nick, "but nothing compares to the value of designing and installing alongside the experts."
As you embark on your journey to brighten and elevate your outdoor spaces, remember that System Integrators is your trusted partner in achieving a harmonious blend of aesthetics, functionality, and durability. With our expert guidance and the exceptional quality of brands like Coastal Source, your outdoor areas will radiate with beauty and brilliance. We look forward to illuminating your path to extraordinary outdoor living experiences!